NewsBlast
Essential News for You and Your Family
Idaho Federation of Families

NewsBlast
State Grand Prize Winner
 Children's Mental Health Awareness Poster Contest 
Faith Drane, Region 1, Age 16, from Pinehurst, Idaho
Dear Mike,
The following Federation
NewsBlast
is our E-newsletter highlighting exciting opportunities, important information and some community calendar activities that may be of interest.
We very much encourage organizations and individuals to notify our office when you have relevant upcoming community events that we may share on our website calendar, and our monthly Federation NewsBlasts.  Call us in Boise at 208-433-8845 or 1-800-905-3436.
More Winning Posters from Children's 
Mental Health Awareness Month
Overall Winner Region 3
Jewell Jensen, Age 18 from Nampa, Idaho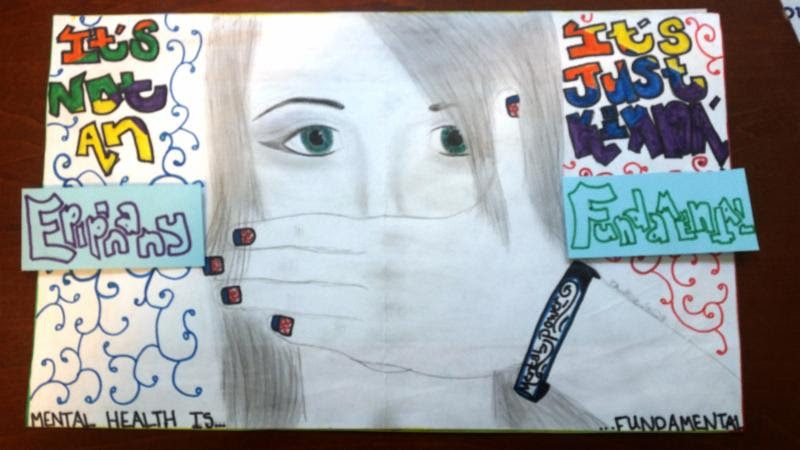 Overall Winner Region 2
Austin, Age 15 from Lewiston, Idaho
Overall Winner Region 4
Payton Nelson, Age 14 from Boise, ID
Overall Winner Region 7
Brooklyn Cunningham, Age 13 from Idaho Falls, Idaho
Children's Mental Health Awareness Month Activities
Awareness Walk on May 2nd in Twin Falls
Kids Fun Fest on May 2nd in Boise
Kids Fun Fest on May 2nd in Boise
Kids Fun Fest on May 2nd in Boise
James Turner, LINC, joined us at Kids Fun Fest
Youth MOVE Idaho spent May 2nd bringing awareness to the folks at 
Capital City Public Market in downtown Boise.
Capital City Public Market in downtown Boise.
*** PARENT WEBINAR  SERIES ***
"What Parents Need to Know about Concussions, TBI & Mental Health Disorders"
This webinar will be presented by
Brian Smith, LPC, NCC, of
Family Counseling Services.
Many parents are unaware that a concussion or mild traumatic brain injury (TBI) can impact the behavioral & emotional well-being of their child. Mild traumatic brain injury and post-concussion syndrome often go undiagnosed due to unsought medical care, inconclusive screening or scans, and lack of common knowledge regarding causes and effects of mild TBI. The cognitive deficits associated with mild TBI can affect performance in school, communication, emotional regulation, and relationships with friends and family. This webinar will cover identification of symptoms, available interventions & accommodations, and how to reach the appropriate professionals.
This 1-hour webinar will be live on Friday, May 29th at 10:00 AM MDT. Certificates of Attendance will be available for this live session upon email request.
Advance registration is required and a computer with internet access is needed. If you do not have speakers on your computer, you will also need a telephone to access the sound portion.
"What Parents Need to Know About Concussions, TBI & Mental Health Disorders"
The webinar will also be recorded and will be available for viewing later via our website at your convenience. However, we cannot issue Certificates of Attendance if not viewed live. 
Call 208-433-8845 in the Treasure Valley or
1-800-905-3436 from all other locations for additional information.
WE ARE HERE FOR YOU –  
PARENTS WORKING FOR PARENTS!
The Idaho Federation of Families for Children's Mental Health invites you to join us for free, informal, friendly group meetings and to share experiences, provide mutual emotional support, learn about resources and enjoy the company of peers.
 Education and support groups 
for parents and youth meet monthly, statewide. Please call the Federation at

1-800-905-3436

to find out what is planned in your region

Families Connected for Life
Again in Nampa in June, there will be a fun, interactive family night!
 Respite Care  
Families and service providers acquainted with issues in children's mental health frequently recognize the strong need for, and lack of, respite care providers as one of the largest gaps in service for both themselves and others.
The Idaho Federation of Families for Children's Mental Health maintains a list of respite care providers from all around the state.  Our providers have all participated in training and have been background checked.
We are searching for new respite care providers in every part of Idaho.  Do you have room in your heart to help these families?
To participate as a provider you are required to take a two hour online training and to successfully complete a background check, for which the Federation pays.  For more information or to register for the upcoming free webinar training on Tuesday, June 23rd at 7PM(MDT), please contact Cindy at 1-800-905-3436 or cshotton@idahofederation.org or tshears@idahofederation.org
Respite helps preserve the family unit by providing care for children with special needs on a temporary basis. It reduces stress on the entire family and provides an opportunity for families to relax. It allows more time for parents to participate in community life; and it gives parents time to rejuvenate from the daily stressors of parenting. Parents interested in obtaining respite care should discuss the opportunities with their case managers.
Great

News

from Our Friends at Justice in Aging!
May is Older Americans Month and we've got something to celebrate: The Supplemental Security Income (SSI) Restoration Act of 2015 was introduced in both Houses of Congress on Tuesday, May 19.
Approximately 8.4 million Americans rely on a monthly SSI benefit to pay for their basic needs including rent, food, transportation, utilities, and health care co-pays. SSI is a safety net program administered by the Social Security Administration (SSA) that was signed into law in 1972 to provide a basic income for the elderly and persons with disabilities, but it's no longer serving its intended purpose of keeping people out of poverty. It's time for an update!
The bill was introduced in the Senate by Senator Sherrod Brown (D-OH), and Senator Elizabeth Warren (D-MA), and in the House by Representative Raul Grijalva (D-AZ), with Senators Bernie Sanders (I-VT), Bob Casey (D-PA), Sheldon Whitehouse (D-RI), and Mazie Hirono (D-HI) as well as 25 House members as original co-sponsors. The Act is endorsed by more than 70 organizations.  Full list of co-sponsors and endorsing organizations here. If your Senator and Representative are not on the list, please write or call them now and ask them to support it. You can find out who they are here.
Youth Mental Health First Aid
Learn the skills to identify, understand and respond to signs of mental illness and substance use disorders.  This free training will be offered on four different dates in September, October, November and December in Ontario, Oregon.  
Click here for information.
Save the Date!